Catering menu: Ideas for your business
One of the first steps to start a catering business is to come up with ideas for menu catering. Take your business to the next level with original catering recipes to impress guests. Create a varied catering menu to attract a larger group of customers.
Things to remember when choosing catering recipes
Ingredients availability: Some exotic recipes and ingredient combinations are perfect for your taste buds, but not on paper. Fresh, exotic or rare foods are more expensive and may need to be imported and ordered well in advance. This is an additional expense and time commitment that can affect profits and increase the cost per plate for your customer.
Cost per serving: Speaking of cost per plate, remember that the customer is the boss. If they request an exotic or expensive ingredient, please meet their needs and make adjustments to Prices based on menu substitutions out of the box. If your customer is looking for a less expensive variety, check out our recipes section to find cheap dishes to please a crowd.
Time in kitchen: some recipes are more complicated and therefore more time consuming than others. By preparing a large number of certain things ahead of time, you may need more staff to keep food fresh, increasing your expenses. Consider prep, cook and prep times when choosing a recipe to find the one that best suits your time constraints and operating situation. kitchen.
Classic catering menu ideas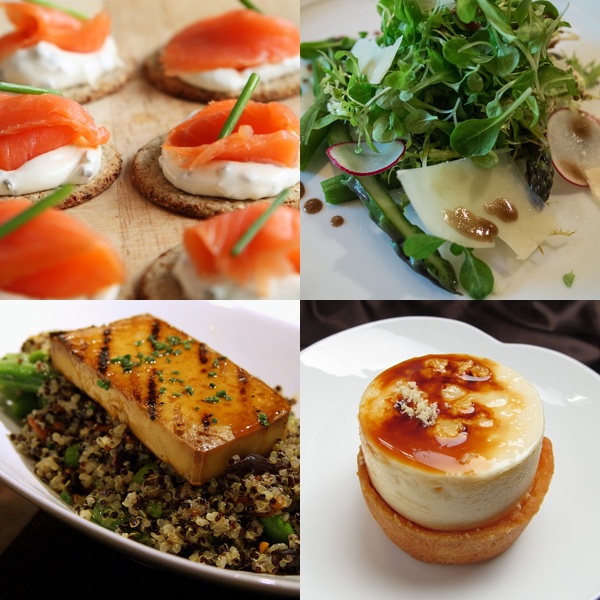 While some recipes are tried and true, offices, party planners, and the like are increasingly looking for a unique twist to make their occasions stand out. The following recipes add a new twist on some old favorites and will bring your caterer's daring and bold tastes to the center. There's a lot to be said for the perfection of reliable backup devices, but mix it up with some of these dishes to add a special touch to every occasion.
For an all-inclusive selection, be sure to cover the following categories:
Appetizers
Salads, soups and side dishes
Startes
Desserts
Offering the right variety in each of these categories is the secret formula for an attractive menu for a diverse clientele. Scatter a few common dishes among exotic options and don't forget to be flexible, as we live in a world of customization.
Appetizer ideas
Get the night off to a good start with a gooey combo of classic cheese bites and tasty French onion soup. French Onion Gruyere Puffs combine sweet caramelized onions, melted Gruyère and buttery batter with a kick of mustard to create a sensational pocket cake perfect for a pre-dinner snack.
Salad ideas
Didn't you think it could be better than the fresh and familiar combination of mozzarella, tomato and basil? Add another crowd pleaser, stuffed mushrooms, and you've got a spectacular salad. Portabellas Stuffed with Quinoa and Caprice Salad add almond quinoa, fresh pesto and roasted pine nuts to turn the salad plate into the main attraction.
Soup ideas
Nothing can compare to a hot bowl of Mom's Chicken Noodle Soup, but Thai Coconut Chicken Soup is one of a kind. Featuring spicy ginger, coconut milk, and rice noodles, this recipe is sure to create quite a stir for your business.
Secondary ideas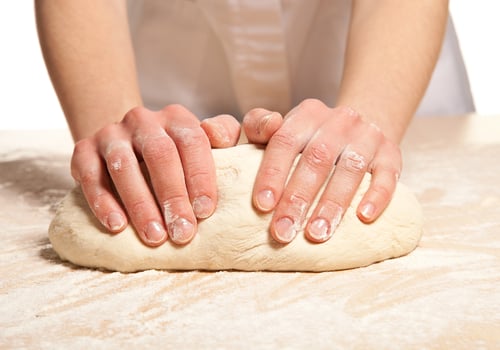 Mashed potatoes is a notorious main dish, but when you combine red potatoes with spicy chipotles, fresh chives, and spicy marinade in chipotle mashed potatoes, your side will be anything but predictable! Faithful jalapenos combined with creamy comfort food is a recipe for success.
Input ideas
Meat entrees
Toss in the traditional steak and potatoes and add some color to your next catering event with glazed skirt steak fajitas. These are perfect for a crowd; Set them to perfection or let your guests prepare their own at a buffet-style event featuring roasted bell peppers and onions with olive oil, tomato and coriander sauce, salty fresh cheese and sour cream. Whichever way you cut it, these fajitas will add a memorable spice to your event.
Poultry dishes
How can you deviate from the traditional rotisserie chicken with crispy skin and tender veggies? Stack the flavor with Tandoori-style roast chicken. From the marinade to the creamy Greek yogurt sauce to the charred onion garnish, your customers won't forget this entrée.
Seafood dishes
Salmon is a classic standby in every chef's repertoire, but instead of a traditional presentation, mix it up! Combine creamy pasta with skillet salmon and carbonara-flavored spaghetti to leave a lasting impression. Bavette with salmon, asparagus and green peas in a pesto cream sauce is sure to leave guests with something to remember.
Vegetarian dishes
The inclusion of Eco-friendly catering menu options It will help you attract more customers, but accommodating vegans and vegetarians with creative dishes is sometimes a struggle. With lasagna béchamel, everyone will be happy! The bright flavors of sweet potato and subtle cauliflower combine in a dish that can't be beat.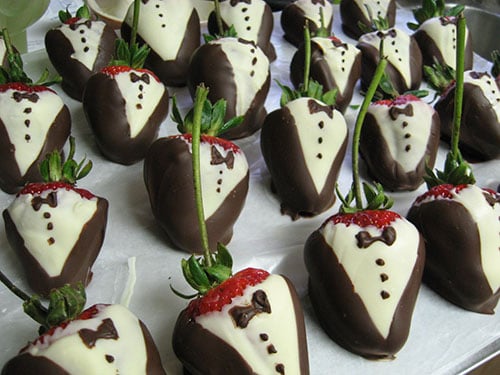 Desserts Ideas
Chocolate covered strawberries provide a short, sweet finish to any meal, but this tuxedo touch ensures elegance to any black tie affair. Tweak your dessert presentation to add an extra special touch to your events with these black tie strawberries. Guests will love this cute trick and your business will score points for creativity!
Creative catering menu ideas
Build your own recipes in four easy steps. Spend a day experimenting at the kitchen and you will discover your own secret mix of herbs and spices! Use local and seasonal ingredients to create your own masterpieces, but be sure to take steps to protect your recipes from competitors.
Start with a proven recipe
For example, to create your own cookie, start with a proven recipe with ingredients simple to to bake as base:
2 1/4 cups all-purpose flour
1/2 teaspoon of baking soda
1 cup (2 sticks) unsalted butter, at room temperature
1/2 cup granulated sugar
1 cup brown sugar
1 teaspoon of salt
2 teaspoons of pure vanilla extract
2 large eggs
2 cups (approximately 12 ounces) semi-sweet and / or milk chocolate chips
Discard any ingredient that is not vital to the production of the substance (in this case, we would keep flour, butter, sugar, eggs, salt and yeast).
Combine ingredients and add your own flavors
Decide if you want to create a sweet or savory dish and add unique flavors to customize it. Consider these ingredients that go great in any recipe:

When in doubt about straying from your favorite recipes, try presenting a classic favorite in a new way. Cut it into a certain shape, add garnishes or stack things in a different formation to give a makeover to the plated items. You'd be amazed at how far small presentation changes can go to make your dish more unique!