Different types of bakeries
Si quieres open a bakeryYou should start by looking at the different types of bakeries to determine which one is best for you. Your choice will ultimately affect many of the strategic that it will take soon, including what equipment you will need, how many staff members to hire and what type of facilities you will need. While this may sound daunting, choosing your bakery type is all about honing your specific skills, so don't be afraid to think outside the cake box.
Retail vs. bakeries Wholesale bakeries
Before starting plan the details of your bakery, you will need to decide whether you want to open a retail bakery or a wholesale bakery. This is an important option, as it will determine how you will interact with your customers,what type of building and equipment will you needand the amount of financial investment you will make in advance.
Open and operate a retail bakery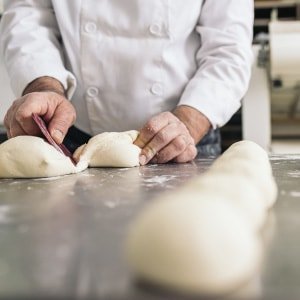 A retail bakery sells baked goods directly to customers, rather than selling them through other businesses or distributors. Retail bakeries can take many forms, but most will require at least one staff member to manage the cash register and assist customers.
Retail bakeries also need space in the front and rear of the home. If you imagine customers walking into your bakery and sitting down with a cup of coffee and candy, you will need a space for them. This may cost money up front, but it allows you to exercise your creativity with an interior design that matches the style of your bakery.
Advantages of opening a retail bakery
More personal interaction with customers.

Opportunity for creativity with cutting-edge design

It is generally less expensive to get going
Cons of opening a retail bakery
Confidence in smaller and less stable revenue requests

You need employees to run the reception area
Own and operate a wholesale bakery
If you prefer to do business with large-scale customers rather than individual customers, you may want to consider opening a wholesale bakery. Wholesale bakers often sell their products to other companies, such as restaurants, supermarkets, specialty stores and even cafes. Because wholesale companies depend on regular customers, their income will not depend on people coming for a snack. This can be a great benefit over retail cooking.
Wholesale cooking offers more flexibility because you can choose whether you want to work from home, in a kitchen from the police station or outside a kitchen commercial leased. While you may not be able to customize your store or design a dining area, there are still plenty of opportunities for creativity with wholesale cooking, such as focusing more on your product and packaging.
A possible drawback to wholesale cooking is the high overall cost. If you are moving a large number of products, you will need to have more employees to help you. Not to mention, you will probably need more equipment to make your baked goods on a large scale. If you're not ready to invest more capital up front, a large wholesale bakery may not be the way to go. However, just because wholesale bakeries can be as big as the Tastykake factory doesn't mean they have to be. A home-made bakery that sells to some local diners also counts as a wholesale bakery, and doesn't require nearly as much capital as a large operation.
Advantages of opening a wholesale bakery
Large orders offer a more stable source of income

No space is needed in front of the house

More flexibility in terms of location.
Cons of opening a wholesale bakery
More costs initials that a retail bakery
High volume production may require additional staff, which means more costs general
Choose your style of bakery service
Once you've decided whether you want to run a wholesale or retail bakery, you can choose the style of service you prefer. Your method of service defines how you move products from your kitchen your customers, and it will be important when writing your bakery business plan.
Bakery service styles
Below, we describe the different styles of service you can choose from when opening a bakery.
Bakery cafe
A bakery cafe, or a tabletop bakery, is a retail bakery that includes a dining area for customers to sit down and enjoy their food. Opening a bakery cafe with seating can be more complicated than other bakery business models because you need a location with space both in the back and in the front of the house. Most bakery cafes also offer food and drinks in addition to baked goods. For example, you may specialize in cookies, cupcakes, and muffins, but you should also consider serving items like coffee, tea, and sandwiches.
Bakery counter service
A counter service bakery is similar to a sitting establishment because both models require a space for customers to order their products. However, counter bakeries may be smaller and do not have a dining room. This business model could potentially save you money on costs general and could sell coffee and other food.
Another benefit of a counter service bakery is that it can cater to walk-in customers who want just a few items, as well as customers who call ahead for a bulk order. Without the added focus on the reception space, you can spend more time completing large orders.
Bakery Food Truck
Bakery food trucks, like cupcake trucks, are more popular than ever, and there are several reasons why. They are relatively inexpensive to purchase (especially compared to a sitting establishment), and they also give you the freedom to move to different places.
However, if you choose this business model, you probably need to find another place to prepare your product. While it is possible to equip a bakery or cupcake food truck with a kitchen fully equipped, can be very expensive. Fortunately, many cities have police station kitchens that you can pay to access for a set number of hours. If you decide to prepare your baked goods in a separate location, you will only need enough space in your truck to store and serve your product. This will help keep your costs.
Homemade bakery
Baking at home is perfect for entrepreneurs who don't have as much capital to invest in their new business. Everything you need to start a homemade bakery is proper equipment, adequate space and necessary permits. Some states, such as Texas, prohibit the sale of homemade baked goods unless the kitchen area is completely separate from the home, so it is important to check the regulations in your area.
If you choose to start a home bakery, you should also consider how you are going to bring your products to your customers. Will you sell your baked goods online? If so, how will you keep them fresh if you have orders from across the country? If you only plan to sell locally, will you have a delivery truck or van with refrigerated storage? Answering these questions will help you begin to think about how your business will function day by day.
Specialty Bakery
A specialized bakery focuses on making one or a small number of baked goods. For example, a wedding pastry would be considered a specialty bakery because they specialize in making one type of product particularly well. Allergy-friendly and healthy bakeries, like establishments offering vegan or gluten-free baked goods, also fall into the specialty category. Specialty bakeries also offer flexibility, because while you will focus on a specific type of product, you can choose to produce it in a retail or wholesale environment.
Choosing which type of bakery you want to open is an important decision as it will determine how configure your business plan bakery. When you decide what type of bakery to open, you also decide if you will need additional employees, what type of baking space you should lease or buy, and how you will market your bakery. It is a great decision, but it is also the exciting first step in your new business.