The world famous Chefs achieve great international recognition because they understand what it takes to master culinary art in all its facets. Cooking is much more than using good ingredients and achieving beautiful presentations, because it is the chefs who give the soul and flavor to the dishes. That said, I invite you to know a list of 9 famous Chefs in the world, who manage to master Gastronomy from head to toe and for that reason they are recognized worldwide.
1. Enrique Olvera - Mexico
Chef Enrique Olvera is one of the best known Mexican chefs in the world.
He was born in Mexico City and at 19 years old he decided to move to New York to study Gastronomy.
He is known for knowing how to exquisitely represent all the traditional flavors of Mexico, in a natural mix with today's culinary modernity.
Its main project is the restaurant Pujol, which is located in Mexico City.
2. Gordon Ramsay - UK
British chef Gordon Ramsay is one of the best-known chefs on world television.
His fame is due to his participation in culinary challenge programs for beginners like Kitchen Nightmares, Hell´s Kitchen, Hotel Hell y MasterChef, where he participates as a jury.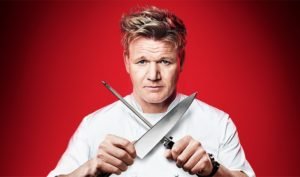 But his fame is not a matter of raiting because Ramsay owns restaurants awarded in the United Kingdom, France, Singapore, Hong Kong and the United States of America.
He has been awarded 16 Michelin stars, the most coveted recognition by the best Chefs worldwide.
3. Grant Achatz - United States
This young and talented international Chef was born in the United States in 1974.
Achatz began his culinary career in the restaurants They were owned by his parents, where he learned from great world-class chefs like Thomas Keller.
Currently, this award-winning chef is Chief Chef of the restaurant Alinea, located in Chicago.
The food establishment that it leads has to its credit the recognition of 3 Michelin stars.
His style in the kitchen is based on offering a tasting menu based on creativity, with the aim of giving a new experience to the senses of his clients with each dish.
4. Juan Mari Arzak - Spain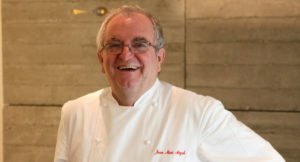 The Spanish Juan Mari Arzak is one of the best Chefs in Europe and the world. He started cooking in the restaurant from his parents, where he learned to prepare the Basque bases of his current dishes.
Arzak is a specialist in the preparation of traditional Basque dishes, to which he learned to print his personal and unique touch.
This talented chef earned his first Michelin star at the age of 30, in 1972. Since then his name has not stopped appearing on the lists of the best chefs in the world.
He obtained his third Michelin star in 1989. This indicates that he has managed to maintain the quality of their dishes for many decades.
He is one of the most famous apprentices of the French Chef Paul Bocuse, who is considered one of the best chefs in history.
Currently, the Basque Chef shares the leadership of his kitchen with his daughter, Elena Arzak.
5. Ferran Adriá - Spain
Ferran Adriá is known in the culinary world as "the teacher". He was born in Spain in 1962 and, at the time, his disappeared restaurant Bulli was considered the best food establishment in the world, according to the Michellin Guide.
Adriá closed her restaurant to found Bulli Foundation, an organization that investigates, with the support of different professionals, on ingredients, techniques and more aspects of the culinary world.
To understand Ferran Adriá's legacy, one must understand that he was able to close the doors of his successful restaurant to open an academy that seeks to give the world more knowledge about Gastronomy.
This idea made Adriá one of the famous chefs in the world.
6. Paul Bocuse - France
As you already read in this article, Chef Paul Bocuse is one of the greatest chefs in history.
He is credited with creating the nouvelle cuisine, a concept that means "dishes that the five senses must fall in love with".
Bocuse was born in 1926 in France and died in January 2018; but his legacy will always be present among the best Chefs in the world because his contribution goes beyond generating exquisite recipes.
This Chef was concerned with guiding new cooks during his career, as happened with the Spanish Juan Mari Arzak, who you already read about in this article.
In honor of Bocuse, there is the Bocuse d´Or culinary contest, a competition that takes place every 4 years in Lyon, France and is known as "the Olympics of Gastronomy". It is one of the most important cooking competitions in the world.
Furthermore, Paul Bocuse is credited with the phrase, "classic or modern, there is only good cuisine. Good cuisine "
7. Massimo Bottura - Italy
This Chef of Italian origin won the title of the best restaurant in the world in 2018 thanks to the quality of his establishment called Osteria Francescana, an award given by The 50 Best.
Massimo Bottura learned from greats of world cuisine, such as Ferran Adriá, which was a great influence on his work.
Furthermore, Bottura is known because among his projects There is the development of alternatives to generate less waste in the kitchens of the restaurants.
8. Daniela Soto-Innes - Mexico
And how not to mention Daniela Soto-Innes in a list of famous Chefs? If she was chosen in 2019 as the best cook in the world by The list 50 Best.
This 28-year-old award-winning Chef is the youngest to win this award in the 4 editions it has held.
Daniela, originally from Mexico City, deepened her knowledge with Chef Olvera in a short period in Pujol and since 2014 she was chosen by the Mexican star chef to head his restaurants Cosme and Atla in New York.
The biggest inspirations for this Chef are her mother, grandmother, and great-grandmother. Which shows that the love for Gastronomy almost always comes from home.
She is a specialist in carnitas, red mole, abalone toast, sweet corn tlayudas with cheddar cheese and steaks with cereals, dishes that have enshrined her in such a demanding and competitive profession as cooking.
Her first job in the sector was cleaning lettuce and strawberries at a Marriott hotel in the city of Houston at the age of 15 and today, 13 years later, she is one of the famous Chefs that everyone wants to meet to try her delicious dishes.
Despite his young age, Soto-Innes demonstrates his level of ambition and culinary quality by expanding his workspaces, since at the end of 2019 he will open an establishment in Los Angeles together with Chef Olvera.
9. Roberto Santibáñez - Mexico
Santibáñez, born in Mexico City, graduated from the renowned Le Cordon Blue and Lenôtre cooking schools in Paris where he learned pastry.
His first job as head chef was at Fonda San Miguel located in Austin, Texas, where he was awarded Best Chef by The Austin Chronicle and The Austin American-Statesman.
Roberto has been an ambassador of Mexican culinary culture for many years, demonstrating his skills and recipes through books and also making presentations for the Culinary Institute of North America and other countries such as Argentina, Brazil and even Australia.
He is currently the owner of inns in Brooklyn and Manhattan in New York, where he offers dishes with contemporary styles and his Mexican roots.
In addition, he is the president of Truly Mexican Consulting, an organization that serves as a culinary advisor for various gastronomic companies in the United States and the world.
That's it! If you got here you have met the most important famous chefs of today. They are all professionals with different styles, influences and specialties, but they are united by the same passion: cooking.