Social networks for restaurants
In an era of constant communication, his restaurant You can greatly benefit from a strategic presence on the brand's social media. By evaluating your core customer base, developing a content strategy, and reviewing audience interactions, you can transform curious followers into loyal customers. Consider the following tips for social media restaurants effective when creating your own strategy.
Restaurant social media strategy
If you choose to interact with customers online, you must first create a social media strategy. Having a strategy established in advance prevents you and your team from sporadically sharing content, compromising in an unintended way professional and miss crucial marketing opportunities.
Consider the following as you create a concrete strategy for your online presence. restaurant:
On-Brand Voice and Aesthetics. Your brand Determine how it will be displayed on social media. It affects the way you speak in a tweet or post, as well as the aesthetics of your social media pages. restaurant. Your brand encompasses the identity, personality and mission of your restaurant, and your presence on social networks should reflect all those facets.

If you operate an informal, fast-paced establishment that is light and contemporary, your page can mimic this by including brilliant photos with on-the-fly appeal; perhaps you also include short and witty quotes.

If you administer a restaurant Rustic farm-to-table style with a wide selection of local beers, your page can feature darker or more neutral colors. You can also include statements and publications that express why your company supports this seasonal local approach.

Quality. Offer your followers valuable content related to your brand. Sharing interesting and thoughtful posts gives people a reason to follow and interact with your page. Avoid spamming by sending high-quality photos that include authentic and thoughtful captions. Whether you share an upcoming event or a new dish, publishing as a whole is an art. The image, the legend, and the purpose of sharing must together provide something meaningful, useful, interesting, or entertaining for followers.
Sensitivity.How quickly can people expect you to respond to their comments, posts, or direct messages? As diligent as you choose to check your social media, make sure your response times are consistent. In general, it is good to try to respond to customer inquiries within a few hours to a day.
Engage your followers. Emphasizing the importance of your followers to them can bring customers back and attract new ones. Offer discounts and special prizes with contests for your followers. This not only creates more loyal guests, but Instagram The algorithm rewards actual participation in the application. When followers engage with your posts and stories, Instagram interprets your feed as popular and will show your post to more of your followers. Also, your posts are more likely to appear in your hashtags, allowing your business to expand outside of your existing network.
Think like your clients. Focus on understanding your audience and what they really want to see as you scroll through their feed. Through a little research or some trial and error, you can begin to understand which types of posts are most likely to interact.
Marketing on social networks for restaurants
Below, we review 9 social media ideas for your restaurant. Explore these tips to create posts and campaigns that will excite your followers, attract guests, and attract new ones.
Invest in a professional photographer
To get started on your Instagram, consider hiring a photographer professional to stock up on high-quality images.
Use food photography techniques
If you take your own food photos, properly research food photography techniques. Using natural light, action shots, proper angles, and sticking to your brand are essential.
Hold contests
To create rumors and spread the word about your restaurant, run contests where your followers have to tag a friend or share your post. For example, ask your followers to share your latest post on your Instagram page or story for a chance to win a free dessert, and randomly select a winner who can advertise on your page. Alternately, you can have your followers tag a friend in your post, which will expose them to your page and can increase their following.
Include photos of the front of the house
Post front-of-house action or scene footage when possible to allow the viewer to imagine being in your restaurant You can even include prepared photos of a "clap," share photos from your busy nights, or include images that emphasize your unique interior design.
Use candid, natural photos
Don't avoid candid, natural, raw or humorous photos taken by servers or staff. This can add a personal touch to your posts that will help guests feel part of your community. Engage staff with images and videos to further emphasize this. Giving followers a behind-the-scenes or real-time look at how your restaurant is running makes them feel more connected to your business.
Protip of Agora Downtown: "Try to stay on top of current trends and incorporate them into your presence on social media. You can add some humor, which helps put a face on your business. Plus, it's nice to take a break to focus on the products or services and instead just focus on making your customers laugh! "
Request input from your followers
Ask your followers for their thoughts and opinions. Thinking of trying a new dish? Include a poll or ask followers to comment on what would interest them the most. Curious to know what is the favorite dish of your guests? Ask your followers for their thoughts and opinions!
Share interesting stories and facts about your business and staff
Consider including customer photos, employee profiles, anecdotes, and stories about your business to create compelling personal content that guests look forward to.
Inspire and use user generated content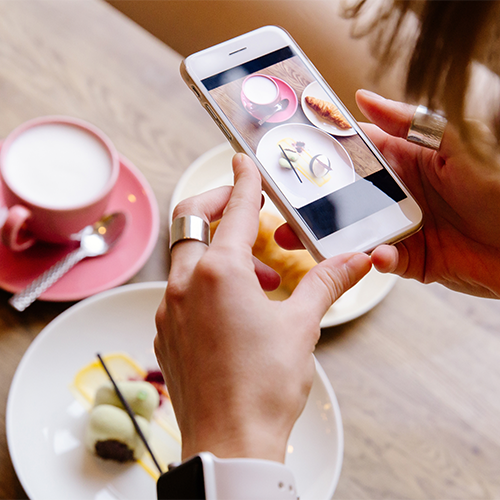 Encourage guests to post photos of their visit to your restaurant and to use a specific hashtag for your business or tag your business in your post. You can turn this into a contest and choose the "best photo" or randomly select a winner. You can also just remind guests to use a certain hashtag. This not only spreads the word about your restaurant to your followers, but creates more content that they can use for their profile. Just be sure to ask clients before reposting their photos under your own profile, and always give credit to the original poster.
Take advantage of relevant topics
Take part in national food days, such as National Pizza Day, National Ice Cream Day, or the day that is most relevant to your menu. Get involved in cool topics like upcoming sporting events and vacations.
Social media tag for your restaurant
As fun and laid back as social media can be, always remember this is still a space professional when you represent your company. As a general rule of thumb, you shouldn't act differently online than in the middle of your restaurant.
Treat everyone you interact with online as a potential customer. Give them the same respect as you would someone who eats in your dining room. This applies to those who post on a positive experience or followers who may be giving you some critical comments.
If you've decided that a certain social media channel isn't right for your business, don't just abandon your profile. An old and outdated profile may seem little professional or lazy for potential customers who stumble upon it. This can leave the impression that you don't care enough about your business to maintain a strong online presence or that your business may be closed. Instead of abandoning a profile, just delete it entirely.
Because social media is always changing, it can be challenging to learn the differences between each channel and best practices for each. In fact, staying up-to-date on the latest features, creating unique content, and monitoring your success may seem like a full-time job. But even spending a small amount of time and resources on your online presence can make a positive impact on your ability to reach and build great relationships with new customers.