Before you can set up a delivery service for your restaurant, you must make sure you have a menu suitable to carry. With the rise of food kit options and more customers choosing to order rather than dine, have a menu Friendly delivery is essential to your bottom line. As the coronavirus continues to force business closure, you can keep your restaurant operating by offering a delivery option to its customers.
Takeaway menu considerations
Whether you use a third-party delivery service or your own in-house delivery fleet, choosing the right menu items for your take-out menu is essential to ensure successful deliveries. It is important to understand that not all of the foods on your restaurant they are friendly to delivery. You'll want to choose foods that capture the essence of your business but can still be thoroughly enjoyed at home.
Here are some questions you'll want to ask yourself when choosing a delivery menu:
Does the food travel well?
Will the food become soggy or diluted over time?
Will the food be presentable when it is delivered?
Do you have the right food packaging?
Will the profit margin of the plate cover the shipping costs?
Will the preparation time make the total delivery time too long?
Can your staff handle an influx of home delivered meals?
How to build a menu for delivery
Muchos restaurants add delivery services in an effort to increase sales restaurantsBut they may end up losing income by not adequately adapting their menu for delivery. To make sure your delivery service is successful, you can choose to modify your menu items for delivery, specifically add friendly delivery meals to your menu or create a completely separate take-out menu. Use the following guidelines to create your delivery menu:
1. Get your timing right
When it comes to food delivery, timing is everything. Since most customers agree that speed of delivery is one of their top priorities for ordering, prompt delivery can mean a positive customer review for your business.
These are just a few time elements to consider when creating a delivery menu:
Preparation time
Before adding an item to your take-away menu, make sure it doesn't take a lot of setup time besides handling times. A customer may be willing to wait 20 minutes for a meal to be prepared when dining at their location, but if there is a 30-minute drive to your home in addition to the preparation time, this can result in excessive delivery times and negative review.
Temperatures and textures
Some foods will continue to cook even after being packed. For example, the internal temperature of a fillet may continue to rise while in transit, causing it to reach a fillet cooking level different from that requested by the customer or with a different texture than desired. It is important to consider the total cook time in the delivery time to know when an item should leave the door.
Delivery radius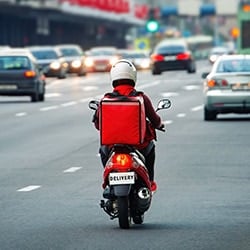 Create a radius traced around your restaurant that your drivers can reach in an adequate delivery time after taking into account the preparation time required for your takeaway menu items. In this way, you can ensure that all of your delivery customers have a good experience with your delivery service.
Delivery fleet
Make sure you have enough drivers in your delivery fleet to keep up with the demands of your delivery orders. It can affect your average delivery times if you need to wait for a single driver to return from your route. You may want to hire a third-party delivery team for busier times of the year.
2. Choose the right packaging
You may not be able to pack your signature dishes the same way you would plate them. Using the right takeout containers and packaging a meal correctly can ensure that your dishes reach your customers safely.
The following are just a few ways to properly pack meals for successful deliveries:
Choose the right size containers
It is important that your meals look presentable after being transported. Choose take-out containers that are not too large for the item you are packing. For example, pizza boxes should only be a few inches wider than the pizza placed inside.
Pack sauces and seasonings separately
If you have options like nachos, salads, or loaded french fries on your delivery menu, you can pack the sauces and condiments separately to avoid disaster when they are delivered. Keeping sauces off dishes also prevents them from getting soaked in transit. These items can be assembled when they reach your customer.
Use proper insulation
It is important to use packaging that helps your food retain its moisture and temperature. Hot foods that aren't packaged properly can end up releasing condensation into your containers, making your customers' meals soggy. You can avoid that by using hot food bags for items like hot sandwiches and pack them away from cold items like drinks to prevent them from "sweating". Be sure to also use insulated food bags while your orders are in transit to help them maintain the proper temperature.
3. Make your food presentable
The way your food reaches your customer will be the statement you make about your business. You need to make sure it looks appetizing and professional.
If you plan it all together, make sure it doesn't move too much in transit or it will end up looking like a mess. If you put it on a separate plate, make sure the sauces and condiments are easily identifiable so that your customer can prepare them to your liking. You may need to make adaptations to your exclusive dish recipes to make them presentable.
Add your logo restaurant Your packaging is also a great way to provide a professional finishing touch to your customer's order. Have your logo or slogan on your boxes and handbags can help create a memorable experience for your customers by encouraging repeat sales.
Choose items from the delivery menu
Your best-selling menu options may not be the best options for delivery. Can customize those best-selling products to make them more portable or make a delivery version of those fan favorites.
Here are some friendly meals for delivery:
Pizza
Finger foods
Sandwiches
Chinese Food
Sushi rolls
Fried chicken
Burgers
Tacos
Some foods require some adjustments. Here are some suggestions on how you can adapt your menu:
Instead of fresh lobster, serve lobster rolls
Instead of pancakes and eggs, serve a breakfast sandwich with pancakes like buns
Instead of bread bowls, serve the soup with a bread roll on the side
Instead of pho (Vietnamese soup) that is all assembled in a bowl, send the ingredients in separate containers
You may want to avoid foods that are prone to melting completely. That cake and ice cream dessert on your internal menu probably shouldn't come with ice cream on your delivery menu, unless you have the right insulated containers to ship it to.
How to make a delivery menu easy to use
Once you choose the articles going to your delivery menu, make sure your ordering process is simple and easy to use.
1. Put your menu online
Most customers who are interested in ordering food for delivery will begin their search online. They will look for the following:
If your menu is available to view online
If you can order and pay directly online
If there are comments for your business before they commit to the order
In anticipation of your customer searches, try adding your delivery menu and ordering capabilities through your restaurant's website or using the site of a third-party delivery company, such as Grubhub, Uber Eats, or DoorDash.
2. Keep a simple and short menu
Hungry customers generally won't have the patience to flip through a long menu of options, so it's important to keep your delivery menu short and to the point. That means selecting a maximum of 15-20 of your best-selling, easily transportable dishes for your take-out menu. Once you have chosen your offers, divide them into categories so that your menu is easy to navigate.
3. Make your menu visually appealing
If your online menu is the only interaction your customer will have with your business, you want to make sure that menu is a good representation of your restaurant. Here are some menu design ideas to fix your delivery menu:
Add professional photos
Use short and accurate food descriptions.
Wear eye-catching colors and bold designs
4. Update your menu in real time
Nothing is more disappointing for a customer than discovering the food product they have focused on is no longer available. This may cost you a full sale. To avoid disappointment, appoint a staff member to oversee the menu online and update it in real time depending on your supplies. If you run out of ingredients to make an element of menu, immediately remove it from the menu so that customers cannot accidentally order it.
If you've recently added a delivery service to your restaurant or are looking to add one as the food service industry adjusts to the coronavirus, you can use these tips as a guide to structure your menu during these uncertain times.