A little review of its manufacturers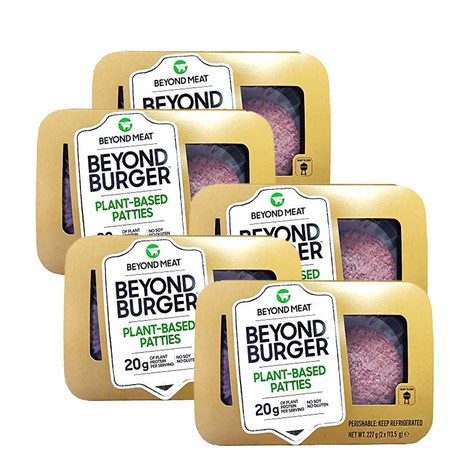 Every time are more manufacturers who dare to launch their lie burgers. Till the date, Beyond Meat e Impossible Foods It is the brands with the longest standing in the market and it is precisely these two brands that supply their products to McDonald's and Burger King, respectively.
But in a short time, they have been appearing new actors on stage like 'Protein Patties' from Trader Joe's, 'Better Than Beef' by Don Lee Farms, 'Incogmeato' of MorningStar Farms and subsidiary of the popular the Kellogg Company, 'Awesome Burger' from Sweet Earth Foods (belonging to Nestlé), 'Simple Truth Plant Based' by Kroger or 'Happy Little Plants' from Hormel.
The fake meat boom has led to no fake burgers for everyone yetBut these companies - some of them with powerful multinationals behind - already they have shown their letters to get their market share, at least with the American.
But one thing is the United States and another is Spain. Of the main manufacturers listed, currently only Beyond Meat distributes its fake burgers in our country. Although in the Impossible Burger plan includes global expansionAt the moment it only sells its products in Asian countries such as Hong Kong, Macau and Singapore.
Although what are probably the most popular hamburgers in the world still do not have their fake hamburgers for sale in Spain, it is possible to enjoy them in chains like Goiko Grill or The Good Burger, since they have them in your letter: we will only have to ask for the Beyond Meat or Beyond burgerrespectively.
If we get them off the chains, the big cities also offer us alternatives, especially if we go to vegan or vegetarian places like Bumpgreen, Vegan District o The black sheep in Madrid, Khambu in Valencia or Vegan queen in Murcia. However, also "omnivorous" hamburgers such as The Martinesa from Madrid include in their letter the 'Don Beyond Meat'.
Shops and stores
Alternatively buy it and prepare it ourselves at home. In this sense, large supermarkets such as El Corte InglesHipercor Makro y La Sirena They have it for sale both in their stands and on the internet to make the purchase online. And if we are to bring the purchase home, even Amazon sells different packs of the Beyond Meat burger.
However, vegan stores are always a good alternative to find not just fake burgers, but a wide variety of meat-free foods. Shops like Vegacelona, Vegan shop, Global Natural o Vegaffinity are some examples of online stores where they can be purchased.
Published by: Eva Rodriguez @misstakanawa. Posted on