How to make your restaurant suitable for children?
Offer kid-friendly menu options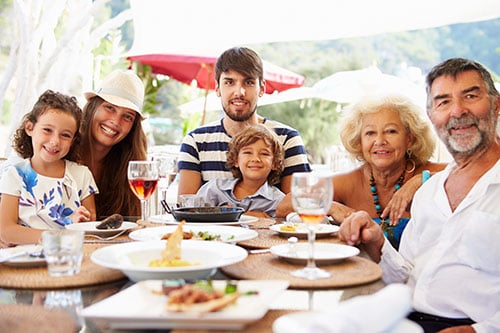 Create options menu for kids it can be tricky. Most children's menus are designed for children under the age of 12, but that menu needs to accommodate a wide range of tastes, preferences and allergies. For example, an eleven-year-old may have no interest in foods that a four-year-old would like.
Create offerings for older children who want to eat similar, but modified, foods to the adults around them. Instead of offering fried foods or heavy pasta, try creating smaller portions of food from the adult menu. Or create dishes that use the bold yet simple flavors of the kitchen you already offer.
Here are some alternatives to classic kids' menu finds:
Grilled chicken with basil pesto instead of fried chicken parmigiana

Salmon patties with peas and rice instead of fish sticks

Turkey dog ​​with sweet potato fries instead of a macaroni and cheese hot dog

Turkey & Cheese Panini with Vegetable Soup Instead of Grilled Cheese & Tomato Soup

Flatbread pizza topped with fresh veggies instead of chicken nuggets and French fries
Also, you want to make sure you offer dishes suitable for very young children. Consider bringing a plate of snacks at little or no cost to the customer immediately after guests with small children or infants are seated. This could include small pieces of fruit, dry cereal, or crackers. Parents will appreciate your establishment's efforts to go out of its way for their little ones, and other diners will appreciate your efforts to appease a potentially noisy child.
Make sure your menu is allergy friendly
Any commercial kitchen should already be working to accommodate customers with common allergies. This includes preparing menu options without dairy, gluten, nuts, seafood, and the rest of the most common food allergens in the United States .
Parents want to relax when they go out to dinner, and having to worry about their children's safety can make it less important. To create a family menu, offer simple, easy-to-read allergy labels that parents can watch out for when helping their child make a decision.
Make Nutrition Information Available Immediately
In addition to adjusting to food allergies, children who visit your restaurant they may have other dietary restrictions that may be of concern to parents. By making substitutions like black bean veggie burgers for beef patties or whole wheat pasta for regular pasta, you can introduce new foods to less adventurous little eaters. Creating simple exchanges that resemble food kids already love can get kids to try different dishes without ever leaving their comfort zone.
Offer weekday specials for families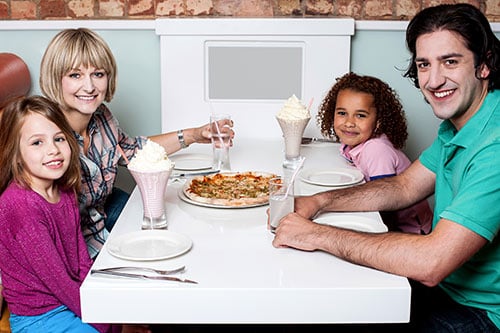 To really encourage families to give your place a try, consider offering weekday specials. Pick a slow day of the week, like Monday or Tuesday, and offer kid-friendly deals like free or half-price kid-friendly meals.
This is especially lucrative because children's meals offer smaller portions than adult entrees, but will attract the business of one or more adults who might not have otherwise come. Just be sure to include stipulations like "with the purchase of an adult entrée."
Equip your restaurant with supplies for kids
You not only need to create a menu full of options for the family, but you also need to equip your restaurant with the necessary supplies and spaces to create a comfortable environment for all.
Provide entertainment at the table
A bored child can quickly turn into a cranky one, so restaurants Family members should do everything possible to keep them entertained.
Here are some ways to keep the kids entertained at the table while they wait for their food:
Offer placemats that double as coloring pages

Cover your table with paper de butcher to give children the freedom to draw as much as they want

Keep several tablets loaded with games available on demand to entertain older children
Offer important services for parents
If you plan to create a family atmosphere, you must be prepared to offer certain amenities, including:
High chairs

Change of seasons
Create a safe and welcoming space for young children
While it is important to stock up on necessary supplies, you must also ensure that the space in front of the house is well equipped to accommodate families.
Build a playground for children
While a play area may not be appropriate in an elegant setting, create a designated area for children to play freely in their restaurant Quick casual can be to everyone's advantage.
Having a designated space for children to run freely and play with each other can prevent children from becoming fussy, frustrated, and noisy in their seats. Encourage parents to let their children play while waiting for the table, after ordering, or at the end of the meal. This can help parents relax, socialize, and spend more time at your facility.
When designing a play space, it is important to create an easily visible area for parents and / or an enclosed or fenced space to keep children well contained. Hire specially trained staff to handle children and fill your play space with toys designed to stimulate children of all ages.
Take extra safety precautions in your dining area
While you should always take extra steps to ensure the safety of your guests, it is especially important to take note of situations that can be dangerous for families with young children.
Here are some ways you can make sure your dining room is safe for young children:
Avoid wet or slippery floors and use proper signage to alert parents

Cover open sockets with protectors, especially those near booths or tables.

Offer padded bumpers or covers on sharp corners of tables, counters, and chairs.
In addition, it is important to properly train your service staff members on how to handle and interact with children. Often times, especially if you are hiring on a seasonal basis, the staff members are high school or college students who may not have much experience with children.
Offer families larger tables than they may need
When seating adults, it makes sense to seat a group of four on a four-person roof. With families, however, you may want to reconsider this strategy.
Families with young children are recommended to be seated in tables or booths designed for larger parties. This allows additional space for toddlers on the move, booster seats, diaper bags, and toys. If you have seating for a family of four, give them a roof for six to provide a more comfortable experience for parents and children.
If you're trying to figure out how to make your restaurant kid-friendly, start with these tips. Above all, remember that you will do a lot to keep your young diners happy and their parents comfortable and relaxed. By incorporating age-appropriate children's menus and creating a space where families feel welcome, you are sure to keep them coming back to create more memories together.