In the restaurant From Bolt Burgers fast food in central Washington, customers can turn to one person to place their order. But many prefer to do it from a touch screen tablet.
"I like this, I wish we could have this kind of thing in Wisconsin," said John Morrissey, a police officer from Kenosha, Wisconsin (north), visiting the US capital.
Like him, many customers place their orders on a tablet installed in a kiosk or delivered in the form of
menu
at the entrance.
"The number of people who prefer to use the technology is greater than expected," admitted one of the co-owners of the
restaurant
Mike Davidson.
"People love speed, and in our business speed is essential," added partner Joe Spinelli.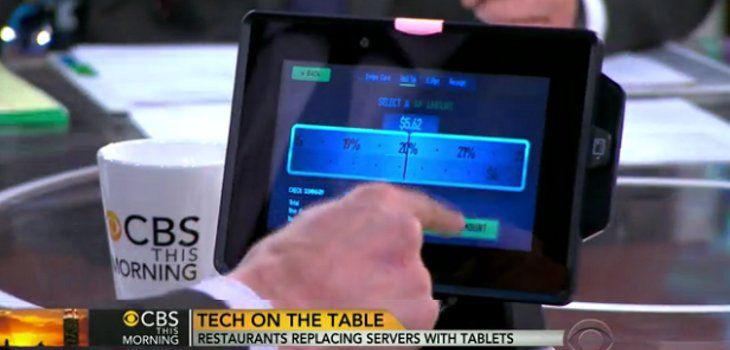 Like Bolt Burger, some of the major chains of restaurants Americans have announced plans to use tablets to view the menu, order, and pay the bill.
Some 800
restaurants
from the Chili's chain are installing devices from the Texas company Ziosk, which also allow you to watch news and access entertainment while eating.
"Customers love it," said John Regal, director of marketing for Ziosk. "They can
control
the rhythm of your food. They can make their order with a person or with the device ".
Quick account for customers in a hurry
Those in a hurry especially appreciate not having to wait for the account to be reached, which they pay on the same tablet.
"You can leave immediately, instead of having to wait 10 minutes or more," said Regal, who assured that the tablets are an additional service to waiters.
Customers interact with a human being to make their initial order, but they use the tablet at the table to add something, order a dessert, or pay.
It is like having "a second or a third person on the team," he estimated. "It is a way for restaurants to differentiate themselves, and gives waiters more time to dedicate to customers. "
Ziosk installs the tablets at no initial cost and charges a monthly fee to
restaurants
, who can recover and, in some cases, increase their income, since they receive a part of the proceeds from the advertisements on the tablet or from the paid games available.
Ziosk's rival, Presto Grupo Card E, which is backed by Intel and that the Applebee chain wants to install in its 1.800
restaurants
This year, it also allows customers to order, pay, and play.
"In the beginning, our goal was to enable customers
control
how and when to pay your bill. What we have learned after two years of testing is that we can offer much more ", according to Mike Archer, president of Applebee, who promised" a wide range of offers "with Presto tablets" not only for transactions, but also for entertainment, social interaction, and more ".
More tips
In an October survey by the National Restaurant Association, only 7% of respondents had used a tablet in a
restaurant
, but more than 40% were willing to do it. The percentage increased in people who had children.
"The restaurant industry is labor intensive, so it is worth using the technology to improve efficiency and productivity," said Hudson Riehle, in charge of the survey.
And from the customers' point of view, this allows "not only knowing the origin of a product, but also the way it is prepared, its nutritional value, and a lot of other information that was not previously available."
The tablet on the table "gives people a chance to read the newspaper or choose a game to entertain their children," said Mary Chapman of research firm Technomic.
Intel boss Brian Krzanich mentioned another "interesting" effect in January at the CES consumer electronics show in Las Vegas: "We found that waiters received 15% more tips," he said. "Everyone likes this."