What supplies do I need to face a pandemic?
To remain operable during a pandemic, restaurants activate the established delivery services as the main activity and adjust their business models. As the food service industry adjusts to the new normal imposed by COVID-19, many owners of restaurants they wonder: What supplies do I need to face a pandemic?
Hygiene in the workplace is critical to operating safely during a pandemic and gaining public confidence. Create a dining environment your customers are comfortable with sponsoring with our coronavirus supply checklist, so you can do it safely and successfully reopen your restaurant.
1. Personal hygiene supplies
Frequent handwashing with soap is the most effective way to prevent the spread of the coronavirus. However, occupational hygiene Efforts alone will not protect your business from COVID-19. You must ensure that employees are not reporting their shift with fever.
Thermometers allow you to reopen and operate your restaurant in a safe way. To reduce the spread of the coronavirus, the Equal Employment Opportunity Commission (EEOC) granted employers the right to take employee temperatures in its March 18 guide. Subsequently, many business owners have been asking, "What temperature is considered a fever?" According to the CDC, reading temperatures of 100.4 degrees Fahrenheit and above are considered fevers in adults.
Here is a complete list of what you need in a pandemic to ensure personal protection for your employees and customers:
Soap

Hand sanitizer with an alcohol content of 60% or more

Antiseptic lotion

Alcohol wipes

Infrared / non-contact thermometers
2. PPE supplies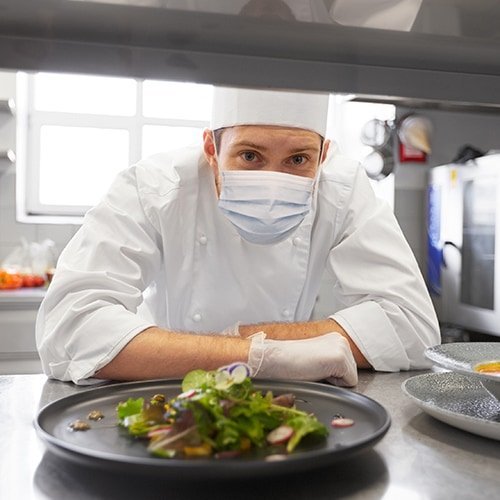 Personal Protective Equipment (PPE) is a classifying term for garments that protect against bodily injury and infection. Traditional restaurant emergency supplies they must include PPE that protects employees and customers from falling debris and non-breathable air; while EPP coronavirus supplies maintain the health of your staff by blocking their bodies from microdrops containing COVID-19. Coronavirus EPP supplies include:
Facial masks

Sterile gloves

Aprons
The masks only remain effective when dry and have not been continuously adjusted by the user. You will need a supply of mask that allows replacement every time the mask gets wet. In most of the restaurantsEmployees must change their masks every four hours. However, you must honestly assess the humidity of your work environment and the frequency with which your employees should speak to determine the number of masks required by your restaurant.
3. Restaurant cleaning and disinfection supplies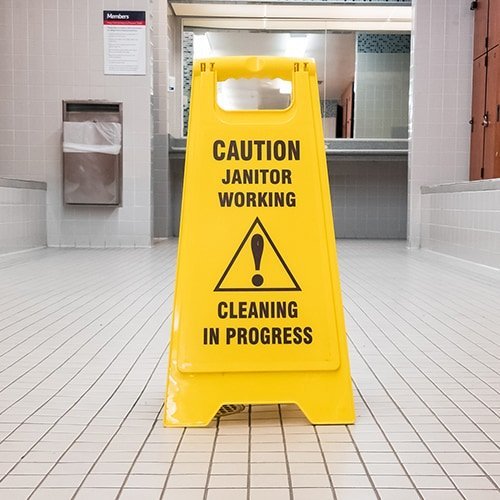 With the purpose of clean and disinfect your business And to prevent the spread of the coronavirus, the Environmental Protection Agency (EPA) recommends that you use products with the following active ingredients:
Hydrogen peroxide

Sodium hypochlorite

Quaternary Ammonium

Sodium chlorite
Not sure about the effectiveness of a cleaning product to fight coronavirus? EPA has an interactive with cleaning product search tool showing which cleaning products are effective against COVID-19.
4. Social distancing supplies
Social distancing has become a buzzword, but what is social distancing really? The term social distancing is used to classify non-pharmaceutical intervention measures that prevent the spread of a contagious disease. Social distancing uses physical distance to reduce the number of times people come into close contact with each other.
Knowing how to follow social distance guidelines allows you to reconfigure your dining room design and waiting areas to accommodate reopening protocols. These are the supplies you will need to implement adequate social distancing in your restaurant:
Touchpoint social distancing supplies:
Customer social distancing supplies:
Signs of social distancing

Posts and strut ropes

Floor tape

Social Distance Floor Tags

Partitions

Caution tape

Sidewalk chalk
Social distance supplies for employees:
Walkie Talkies or Clickers to count guests on and off

Service trays for contactless transfer

Cashier shields
5. Collection supplies (curbside)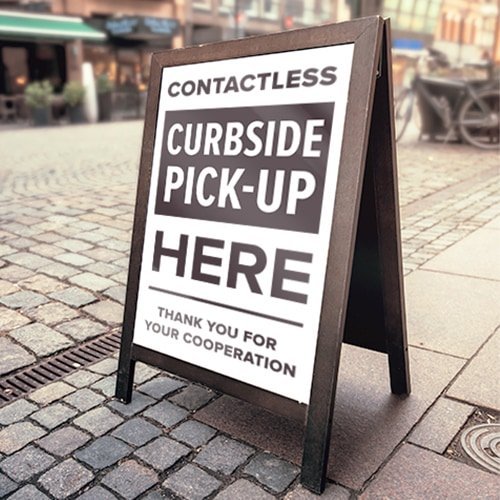 If your business cannot safely resume seating customers, consider expanding your collection capabilities. Evaluate your elements of menu dearest and develop an economically effective solution (sidewalk menu / delivery). Offer dishes that travel well and can be enjoyed in your clients' homes.
Here are all of the supplies you'll need while setting up a collection station that lines your unique brand of your restaurant and meets your location needs.
Traffic cones

Walkie Talkies or headphones

Folding tables and chairs

Awnings / Tents

Outdoor coolers

Cabinets

Outdoor signs

Clings window

High visibility vests

Shelving

Heaters

Outdoor fans

Gentlemen Outdoors

Outdoor heaters

Beverage dispensers

Exterior lighting

Extension cords

Generators

Food delivery carts
6. Delivery supplies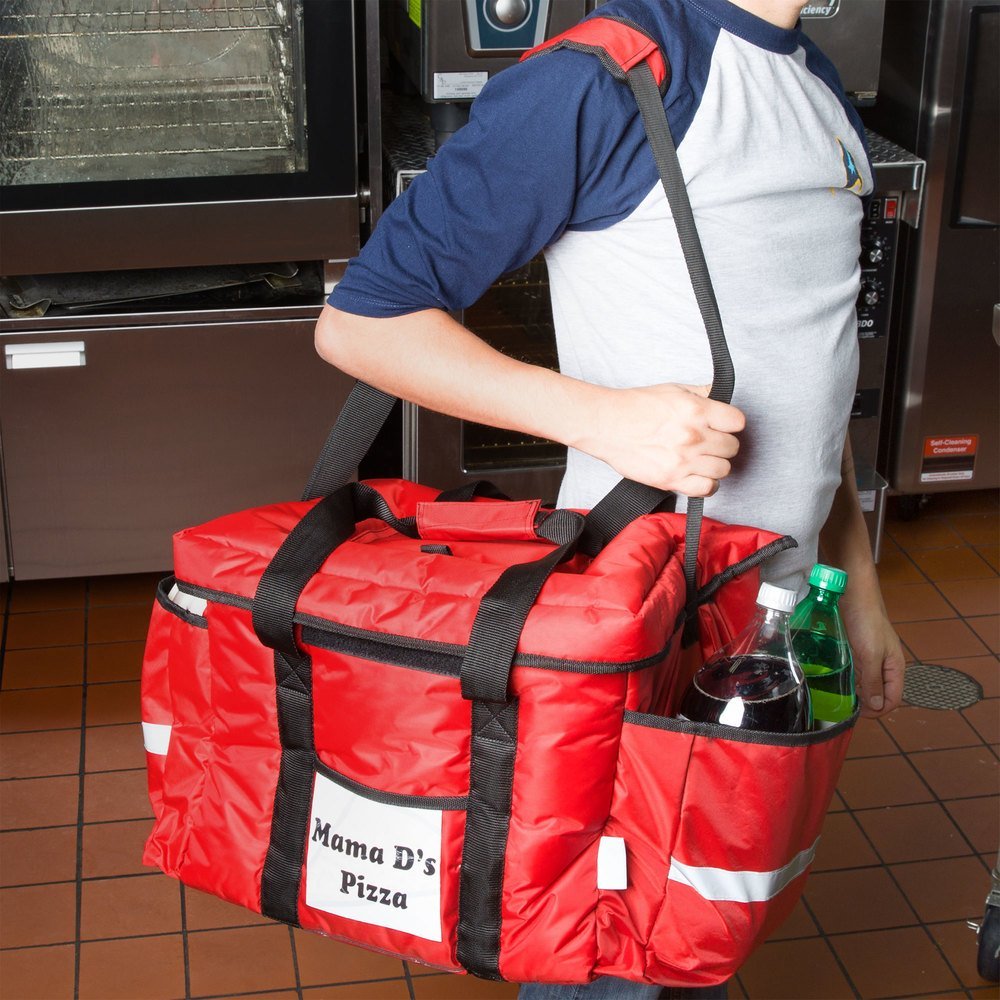 Before COVID-19, takeaway food was already a popular choice among consumers. With the arrival of the pandemic, the public has become completely accustomed to ordering delivery. Stores are likely to experience a continued increase in consumer preference for delivery services. If you have not yet established a robust delivery system, now is the time to consider whether contract a delivery service to third parties It is suitable for your business.
Even if your restaurant No stranger to delivery, train your employees and optimize your service to properly execute contactless delivery is essential to operating your restaurant in a pandemic. Here are all the supplies you need to offer delivery services during COVID-19:
Insulated delivery bags

Take away containers

Plastic cutlery: preferably individually wrapped

Carry bags

Clipboard

Seasoning Portion Packs

Car phone holder

Torches

Tamper Proof / Takeaway Labels

Pizza boxes

Parasols and raincoats

Phone chargers

Disinfecting wipes for delivery cart interior

Outdoor coolers
While the way you supply meals has changed, your customers' desire to avoid the hassle of cooking each meal themselves and experiencing your restaurant's unique recipes has not changed. Use our supplies checklist restaurants coronavirus to remain safely and effectively operable during a pandemic.