The role of the menu in
nutrition
Although, some diners are not interested in issues related to the nutrition, an increasing number of customers demand the opportunity to select nutritious foods from the menu. They are looking for dishes and preparations that are reduced in calories, fat, cholesterol and sodium. Here are some recommendations, which will help you fulfill the wishes of diners who take care of their diet:
There are two ways to create a nutritious meal: planning menu based on food groups and based on nutrient requirements.
For menuPlanned around food groups, these are classified from 5 to 7 groups: fruits and vegetables; meat, chicken and fish; fats and oils. A clear example of this modality is the concept of "5 per day" (see box "It is good to know" for more details).
For menus focused on meeting the nutrient requirements (menu based on calories, proteins, carbohydrates, vitamins and minerals), it is important to know the age group to which diners belong, to know which foods are the most suitable.
| | |
| --- | --- |
| Vegetables | 150-200 grams |
| Pasta / rice or potatoes | 150-200 grams |
| Salad | 120-150grams |
| Food of Animal Origin (AOA) | 100-150grams |
| Fish | 150-200 grams |
Create a new way to present the platillos: Put vegetables, potatoes, rice or pasta in the center of the plate and only place a small portion of animal food as a garnish. Examples:

Make a wheat-based dish and pair it with vegetables like carrots, broccoli, and peppers, along with a small serving of fish (about 100 grams of tuna or salmon); accompany it with a yogurt sauce (reduced or fat-free) with herbs and spices.

Serve pasta with red sauce (tomato), vegetables and 100 grams of seasoned chicken strips.
Recommendations for:
Starters
Offer steamed vegetables, seafood cocktail, or shrimp.

Use homemade avocado dips, rather than industrial dressings.

If you offer antipasto, prepare it with polyunsaturated oils like

olive oil, almond oil, grape oil or linseed oil.

For the vegetable soup: immediately after serving,

add a serving of julienned vegetables previously

disinfected.
Salads
Serve them not only as garnishes, but as a main course, combining them

with different homemade dressings, oilseeds and others

ingredients like: grilled salmon fillet, chicken breast

roast, marinated vegetables etc.

Preferably, put the dressing aside in a container and choose

for reduced fat or yogurt-based.
Fittings
It offers vegetable garnishes from color dark green like broccoli,

spinach and green leafy vegetables.

Another healthy option is legumes without broth, that is

drained or stewed with wine, herb sauce, lemon or

tomato. Like pinto beans, lentils, or chickpeas.

Substitute white rice for brown rice, refined pasta for

wheat pasta.

Use sauces and dressings made from low-fat yogurt,

instead of industrialized toppings or butter.
Main course
When possible, serve the sauce or gravy on one side of the plate.

Drizzle the meat with unsaturated vegetable oil (canola oil, oil

olive) by spray or spray.

Prefer lean, low-fat meats (beef, lamb), chicken, or turkey.

Choose cooking methods, such as roast or grilled instead of

fry.

Opt for fish species rich in omega-3 acids, such as

salmon, tuna, herring or trout.
Desserts
Whenever you can, try to include fresh fruit in your preparations.
Pay attention to the portion size
Today's servings are larger than those served in times past, and most of them exceed consumption recommendations. A menu for lunch, it can be divided as follows (based on a 2000 kcal diet)
55% Carbohydrates: this would be about 3/4 of a cup of cooked pasta, which is equivalent to 24 gr of
carbohydrates
15% Protein: approximately 32 grams (example: in 30 gr of cooked meat, you have 7 gr of protein).
30% Fat: about 21 grams (example: 2 tablespoons of regular Italian dressing contain 14 grams of fat). This includes not only the oils and fats necessary for cooking, but also that hidden fat such as cheese or cream.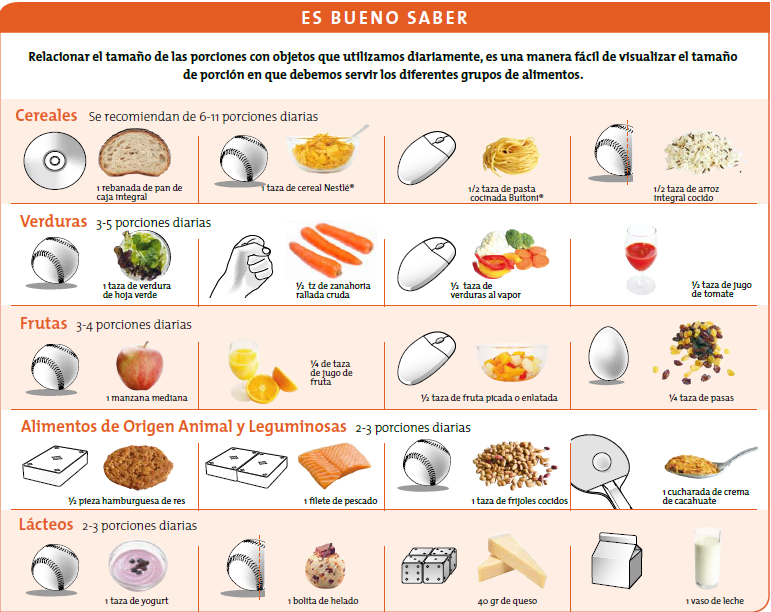 In future articles we will be explaining how to plan the menu in:
Industrial dining rooms
SCHOOLS
Hospitals, nursing homes and nursing homes
I Hope I've been helpful.