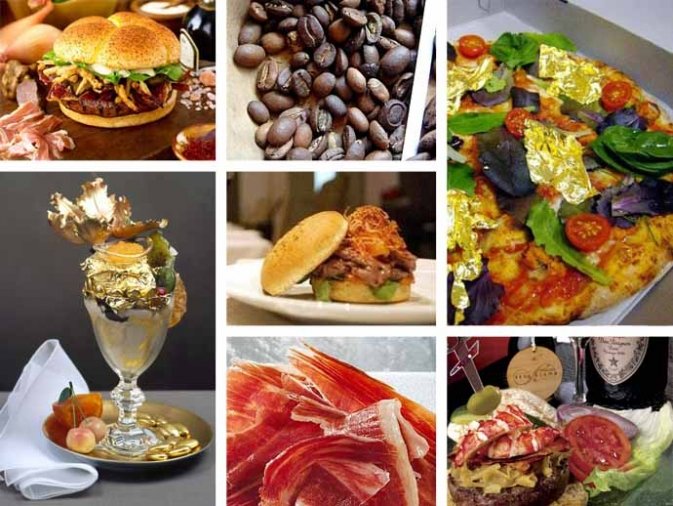 You know, dear readers, that you may never try a single of the snacks that we are going to describe below. And it is not simply a monetary issue, because, even if they had the money to suck an ice cream of 21.000 euros, the most likely thing is that they would spend their pesos on something else. But as at Planeta JOY we like to smear ourselves with glamor, and more when there is food in between, we were not going to miss telling them what the most expensive foods on the planet are these days.
Many times we find the opulence obscene when there is so much need going around, but let's also be honest: is there anything more beautiful than fantasizing about lives that one may never have? In other words, let someone who can sit at the restaurant of the Hempel Hotel, in Bayswater, west London, raise his hand and treat himself to ordering the Sea and Earth salad, which costs 1.000 euros.
Let's be fanciful, then, and blatantly glamorous to read what follows.
This is how the count begins. Do you like pizza? Well, forget about all the vulgar pizzas you've tried so far because Pizza Royale 007 arrived, which costs $ 4000 and comes with 24-carat edible gold sparks, caviar, champagne, smoked salmon, venison and lobster medallions, all marinated in cognac.
Apparently this miracle made mozzarella was cooked for charity for an auction on e-Bay hosted by the British Pizza Pasta & Italian Food Association. The chef in charge was Domenico Crolla, from Glasgow, Scotland, who was finally indicted by the Justice of that country, accused of keeping in his pocket a significant amount of gold sparks that had to be scattered on the melted cheese.
A little more earthy for its price is the most expensive hamburger in the world, served in the restaurant Estik, from Madrid, although it still costs an eye on the face ($ 120) because it is made with beef tenderloin from Kobe, Japan. They say that, before becoming a meat medallion, the animal receives massages to relax muscle tone, sake baths and an exclusive diet that includes beer (it stimulates the ox's appetite and makes him happily drunk).
However, the owners of the DB Bistro Moderne restaurant were angry when they heard that there was a more expensive hamburger than they serve. "Our Double Truffle Burger also costs $ 120," they cried. This version brings a double serving of black truffles and rib meat roasted for twelve hours in a potion of red wine, foie gras and a selection of tubers. The bread has hints of Parmesan cheese, poppy seeds, and is topped with horseradish, candied tomatoes, frisé lettuce, and red onions. It only remains that the Guinness Book of Records dictates whether the most expensive hamburger in the world is from Madrid or New York, although nobody cares too much.
But let's go ahead in the field of gastronomic hedonism and get to know the Frrozen Haute Chocolate Velsid, an ice cream offered in a New York bistro for 21.000 euros. This sorbet has a chocolate obtained from 28 different classes of cocoa belonging to 14 countries. But what triggers its price to heaven is that it contains inlays of precious stones in the cone, which one can then take home to be well with the patron saint.
Another dessert that brings them is Fortress Aquamarine, with edible gold of 80 carats that costs $ 14.000 and is available only in a Sri Lankan pub called The Fortress.
In the field of cold cuts there are also news. Those who have ever gone to a still life with legs of Torgelón ham hanging from the ceiling (with the latent danger that one falls on us and breaks our crest) should know that somewhere in the world there is an Iberian acorn ham whose value it's $ 26.000. You could die happily if you are dining in a still life and suddenly such a pig treasure falls on you.
On the other hand, coffee lovers can also be happy to have their own exorbitant cost fetish. It turns out that the most expensive coffee on the planet is called Kopi Luwak and originates from the stomach of an animal that looks like a big cat. It sounds disgusting and it is: the bug in question is called Luwak and lives in the coffee plantations of the Indonesian islands, feeding on the most optimal coffee beans in their ripening state. This big cat digests the meatiest part and discards the seeds, which are lifted by hand from their excrement and sold for 750 euros per kilo. What no one knows when consuming a well is that such a delight was lifted from the stools of a cuddly feline and laxative-filled on top.
COÑAC, COCKTAIL AND SALAD
As we are a long way from the initial glamor, we want to get back on track and tell you about the most expensive drinks in the world. Last month a bottle of cognac was auctioned in Prague for $ 19.000. It is a very exclusive limited edition of 786 units of the Louis XIII Black Pearl, by the Rémy Martin brand, which is a copy of the original dedicated to King Louis XIII and contains a mixture of a thousand 100-year-old cognacs.
30 people participated in the auction and the base price was $ 5100, but the bid of those interested took the price to $ 19.000, which was finally paid. Even so, it is not the most expensive bottle sold so far by Rémy Martin, since a few years ago he managed to place one of his cognacs for $ 90.000 in an auction made in Japan.
Also in the field of cocktails there is a case that deserves to be cited. In a bar in the city of Chicago, called the Reserve Club, there is the most expensive drink in the world, prepared with vodka, cognac, orange juice, grenadine and champagne, which comes with a ruby ​​instead of an olive (watch out for swallowing it) ). The cocktail is called Ruby Red, it costs $ 950 and so far only three people have ordered it.
Finally, to close this chronicle of excesses we want to expand the case of the Sea and Earth salad, which we presented to you at the beginning. From the kitchens of the Hempel Hotel comes the recipe for this wonderful entry of 1000 euros (it is not even the main course!). Black truffles, two types of caviar, crab, lobster and "Norway lobster fished with nasa", a crustacean that in this case rises from the sea with a net whose origin dates back many centuries ago. According to a reporter for the London newspaper The Guardian, the only accredited journalist allowed to try this dish, the Almas golden caviar that comes in the salad "melts like snowflakes."
After having read these lines one can affirm that luxury is vulgarity, although, with such delicacies in between, the truth is that it is worth lowering yourself a bit. Or not?
How much is the most expensive you paid for a plate of food? Can you tell us?