Restaurant Design Guide
Are you thinking of opening a restaurant or a cafeteria? A meticulous floor plan of the restaurant Installing your niche can make it a successful business venture.
A floor plan involves more than rearranging tables. It must be developed carefully to streamline the operations of the restaurant. There are several crucial elements that involve a floor plan that need to be considered when designing your restaurants.
ESSENTIAL ELEMENTS OF RESTAURANT PLANNING
When designing your floor plan, you should consider the following elements:
Waiting / entrance area

Dining room

Bar / counter area

Rooms kitchen and preparation

Storage

Bathrooms

Compliance with accessibility legislation

Patio / Outdoor Dining Spaces
To make sure operations flow accordingly, you may want to make sure the back of the house and patio space are also in sync with your floor plan. restaurant. Lighting should also be a factor in your design, as it plays a crucial role in creating the ambience of your restaurant. Place the tables of su restaurant Too close to large lights can expose your customers to unpleasant glare.
KITCHEN AND BATHROOM LAYOUT
A design of kitchen Commercial generally provides 5 distinct areas for food production:
Food preparation station

Cook food

Service area

Cleaning / washing

Storage
This configuration is purposely designed to keep personnel within their defined stations with less movement between spaces.
Restrooms should be accessible but located away from the dining room. A bathroom door that adjoins a dining room creates an awkward situation for both staff and customers. Once you have identified a space for kitchen In your floor plan, you may want to consider the location of the bathrooms.
Place your bathroom near your kitchen (as shown in the diagram below) can save you plumbing expense by tying it in adjacent lines. Bathrooms should be spacious but not cluttered and equipped with easy-to-clean fixtures.
In the diagram, you can also see a typical floor plan for a casual restaurant, including the kitchen and the location of the bathrooms. It also includes technical information on the proper separation of islands, booths, tables and chairs. The seating capacity is calculated based on a restaurant design module prepared in our article on optimal use of restaurant capacity

To facilitate work behind the scenes, a well-designed kitchen is a must. Having clearly defined workstations for food prep, cleaning area, and service stations helps ease the chaos of a busy restaurant kitchen. With enough space, the recommended layout is one that includes a kitchen island, storage and cooling areas, and spacious islands, as shown in the diagram below: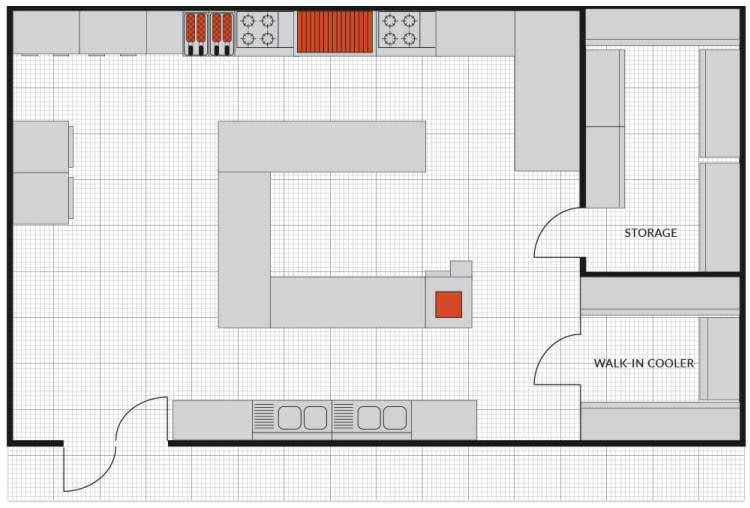 ASSIGN PRIMARY SPACE
When considering the main spaces for your restaurant plan, the general rule of thumb for determining the allotted area is that the dining room should comprise the majority of the total space. The remaining space should be allocated to the kitchen, storage, and prep area. These dimensions may need to be updated and adjusted if your floor plans include a waiting or bar area. However, those spaces should be the approximate percentages for the area.
| | |
| --- | --- |
| Virtual | Total area |
| Dining room | 60% total area |
| Cooking, preparation, storage | 40% of the total area |
International shipments may take up to distribution plans floor and restaurant vary depending on the type of venue and restaurant furniture you use. It is important to note that banquet seating They can use as little as 10 square feet per person, while a good dinner requires at least 20 square feet per person.
It is common among most restaurants and coffee shops have an average of about 15 square feet per person. The seating capacity also takes into account the space required for waiting stations and traffic aisles. The general seating capacity regulations that you must apply to your restaurant plan stipulate:
| | |
| --- | --- |
| Venue of events | Required squares. (Foot per person) |
| Good dinner | 18 - 20 |
| Full service restaurant | 12 - 15 |
| Counting service | 18 - 20 |
| Fast food minimal | 11 - 14 |
| Table service / Hotel / Club | 15 - 18 |
| Banquet / event hall | 10 - 11 |
SPACE GUIDELINES FOR RESTAURANT FURNITURE
To ensure security and allow the free flow of traffic for clients and servers, there needs to be a minimum space for the traffic path between the various pieces of furniture. Here are some guidelines to help you determine the ideal seating space and table height to consider:
| | | |
| --- | --- | --- |
| Diagram | Configuration | Space between each |
| | Chairs occupied | 18 "- 20" |
| | Tables arranged in parallel | 42 "- 60" between sides |
| | Tables arranged diagonally | 24 "- 36" between corners |
One thing to remember when planning your layout and buying the furniture is to match the tables and seat heights:
| | |
| --- | --- |
| Table height (inches) | Seat height (inches) |
| Table height: 29 ″ - 30 ″ | Chair seat height: 17 ″ - 18 ″ |
| Bar Height: 36 ″ - 42 ″ | Bar stool seat height: 29 ″ - 30 ″ |
PATIO / OUTDOOR DINING SERVICE
Restaurant interior design concepts and floor plans apply to the patio area, assuming you plan to have one. Your aesthetic concept can be extended outdoors with the application of the same design style and proper space planning guidelines, as shown in this diagram below:
The plans of the restaurants for patio spaces they should draw adequate spaces between tables and umbrellas to ensure that both customers and waiters avoid colliding with the umbrella. Additionally, wide hallways and walkways that run alongside plants should also be included in your patio floor plans.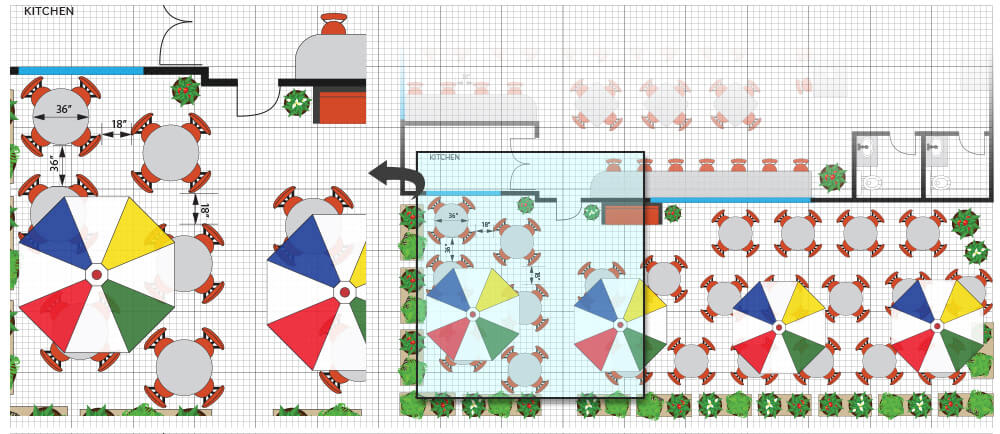 Once you've designed your restaurant floor plan, you can focus on the decor and type of restaurant furniture you want to use for your venue. This largely depends on the type of establishment you have and the type of clientele you attract.
Depending on the size of the restaurant, there are many furniture options to consider, such as restaurant booths, tables, chairs, or a combination of both, including dining tables and booths. Taking the time to meticulously design your floor plan should consider the space available, the type of restaurant, and the seating arrangement to help your business grow. restaurants be successful
The following diagram shows an example of an efficient layout that includes adequate space and a variety of seating in the restaurant: