The control indicator table as a results analysis tool
Driving on a highway at 120km an hour if we observe the control panel We can appreciate information such as the speed at which we are driving, the average fuel consumption, the kilometers that we can do with the amount of gasoline available at that moment, the engine revolutions or the temperature.
All the above information allows us to know exactly what is happening, and what could happen in our car. Well, when we talk about measuring the results of our restaurant and to know what is happening we must know and handle the so-called control indicators.
What is an indicator?
Un indicator It is still a numerical parameter that measures how well we perform an activity, process or service. Therefore, we can say that the monthly operating account of our restaurant it is still an indicator (in this case economic) that measures the result of the business activity of our restaurant.
If the results are positive, we can continue developing our activity, but if they are negative, we will possibly have problems in a short period of time.
Returning to the example of the car, the difficulty is that our restaurant is a certain "car model", which can be unique or very similar to others, so the indicators used by all cars or restaurants, they may not apply to my business, or we should only consider some specific differences in certain processes.
"Everything that we cannot measure can hardly be improved" Therefore, if we do not have control indicators, we will never know what is really happening in our
restaurant
.
Indicator types
In our catering business we will have planned a monthly billing, raw material costs, a service formula, a way of producing and presenting dishes, etc. All these, let's call them "expectations", must be corroborated over time to know if these expectations are being met or not.
Example: The expectation in my restaurant is that we will not exceed 30% of the cost of raw materials based on sales. To do this, after three months of operation I realize that this cost is above 35%.
In this case, we would speak of an internal indicator that measures the activity of our business. On the other hand, we identify the external indicators, which are focused on knowing and measuring the opinion of our client regarding our restaurant.
To put it another way, internal indicators measure the internal results and expectations that the daily operations of our restaurant demand: the effectiveness and efficiency of the room service, the profit, the quality of the products we buy, the level of finish of a plate before being served to the customer.
While the external indicators seek to gather information about the opinion of our client: Did you like our service? How many times do you repeat in our restaurant? What is your opinion of the food?
How to implement a dashboard of control indicators
Before going on to list the control indicators that can be applied to our restaurant It would be good to know the characteristics that every good indicator should have:
Practical: It is obvious that having information that is not practical for us does not make any sense.
Easy to interpret: the results of any indicator should be easily understood. If we have to spend time deciphering the meaning of an indicator, it is a sign that it is not appropriate.
Numerically measurable: every indicator must be based on a numerical scale, otherwise it will be practically impossible control its improvement.
Objective: an indicator always carries a goal. For this reason, it is to base, determine firstly what objective we want to achieve, and secondly define which indicator will allow us to measure it.
Improvable: every objective should be at the same time improvable. Improvement implies having reliable data that we are reaching certain levels of excellence.
Reliable: perhaps one of the most complex aspects. The method used to collect the information that regulates an indicator must be as clear and subjective as possible. The observer of the indicator can never influence its results.
Now that we are clear about how an indicator should be, we can determine in our restaurant the criteria to follow to start designing our own indicators. Initially we should apply indicators following two lines of action:
In those processes that may have critical consequences on business results.

In those processes and services that influence customer satisfaction.
General scheme for the implementation and monitoring of the defined indicators:
1. Search for areas of improvement in business activities:
Address / Areas of management: indicators of Efficient.

Customer: indicators to improve customer satisfaction.
2. Definition of the objectives of each indicator and selection.
3. Design of the information collection system for monitoring indicators:
Data collection sheet (indicator file).
4. Definition of the periodicity in the collection and annotation of data.
5. Monitoring the evolution of the indicator: evolution of the current situation in reference to the objective to be achieved.
Once this point is reached, we will already have reliable information to analyze it and take the strategic corresponding improvement.
6. Implementation of improvement actions:
Corrective actions: those actions that aim to improve the results achieved. For example, levels of customer satisfaction.

Preventive actions: those actions whose purpose is to reduce the risk levels indicated by the corresponding indicator. For example, actions to be applied in our restaurant to reduce the levels of sanitary hygiene risk.
7. Implementation of the results of the improvement actions derived from the continuous improvement teams. A continuous improvement team is made up of the people who influence or can clearly influence the improvement of the indicator in question.
8. Standardization of results: once the improvement results have been achieved, we must ensure that from that moment on "it is always the same".
9. Continuous monitoring of the evolution of results on the indicators of management. The protocol for monitoring the results of the indicators must be consolidated over time.
10. Start of the cycle: search for new indicators. Once the improvement objectives have been achieved, we should gradually incorporate new indicators and, at the same time, discard those indicators that, being not critical (eg customer satisfaction), show that there are no longer any deviations. As we can see, we are talking about a continuous improvement system.
Examples of indicators
La management daily of a restaurant business must incorporate a system of indicators based on a monthly management control of the establishment, those critical indicators that we must review continuously and that give us as a result a "photograph" of what is happening, and the indicators that we apply for control the work processes that we usually carry out in the restaurant.
Example of a monthly management control chart:
Opening days.

No. of cutlery sold.

No. of dishes sold by type.

Billing.

Average customer spending.

Normal working hours.

Extra hours.

Total hours.

Productivity.

Cost half an hour.

Number of covered day.

Taxes.

Monthly raw material cost.

Monthly staff cost.
Examples of indicators considering the functional areas and processes of a restaurant: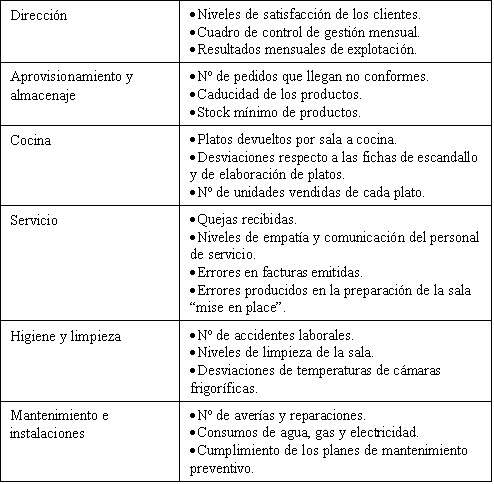 Obviously, the previous indicators are just one example that each restaurant should consider based on their needs. Not all treasure the practicality required of every indicator, but depending on our business its application may be required and necessary.
An effective system of indicators will provide us with valuable information, both quantitative and qualitative, which will allow us to make coherent decisions in relation to what is happening in our restaurant. Everything and that the information given by the indicators is a historical reflection in which we will no longer be able to influence, it is the only solution to be able to adopt preventive measures.
Without preventive measures, we run the risk that our restaurant enters a negative spiral from which we cannot get out, because we do not know what is happening around us. And it is not enough to have an intuitive perception of what is happening, since all intuition must be supported by subjective indicators that assure us that we are going on the right path.
Now and more than ever, information is power: power to see what is happening in our restaurant, power to make decisions in a safer way and power to adapt to the changes that the consumer demands of us.