In some cases the kitchen It is that unexplored territory of the house that is rarely used to prepare breakfast and little else. If cooking for you means cooking a hard-boiled egg and making a grilled steak is an arduous task in which you need armor and a shield against oil, we have good news for you. Technology and design team up to make things easier for you kitchen.
The great variety that the Internet offers in these Gadgets curious is overwhelming. That is why today we have selected some very interesting articles due to the variety of functions they provide or the ease they offer you so that what you find tedious is fun, easy and rich. I am sure that after reading this article, you will want to have them. We put at your disposal the links of each one, so do not worry, you will not spend hours and hours trying to find them.
The croquetera
It is an ideal accessory for franchises, restaurants, o esas croquetas caseras que haces (o te hacen) en cantidad. Como te saldrán siempre iguales, puedes quedar como un professional en tus citas, reuniones, etc.
The product is easy to use, comfortable and hygienic: they are scissors in whose tip you can attach the molds for different purposes: it includes four easily interchangeable molds: two round / ball type rice balls or meatballs in two sizes, and two rectangular for croquettes or sushi in two sizes.
You just have to take the dough and, when closing, you always have the right amount. Swap out the sturdy accessories by releasing easily with the tab underneath and you're done! The accessories have air outlet holes to promote non-adhesion of the dough: how well thought out! Same as the wide space in the finger scissors. In addition, you can wash them in the dishwasher, so they will look like new once used.
Heated serrated edge designed to roll and smooth cold butter.

Its micro-textured surface offers better grip and spreading action.

It has semiconductor heat transfer tubes underneath its rugged titanium housing.

Comfortable for the wrist, designed for left and right handed users.

It does not require electricity or batteries, it is safe for children, it is dishwasher safe.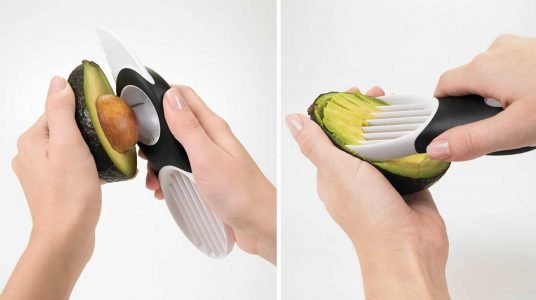 BPA free. Material of quality 100% non-toxic food, environmentally friendly, safe to cut.

3-in-1 Design Tool: Only this tool can divide, pit, and slice your avocado quickly and safely.

Easy to clean and dishwasher safe - all parts are dishwasher safe.

Wide use: not only used for avocado, but also for kiwi fruit, dragon fruit, etc.

Uso prolongado: diseño professional de alta resistencia y mejores materiales para garantizar un rendimiento de calidad para durar años.
Makes the job of creating uniform fruit and vegetable spirals easy for curly fries, salads, side dishes, and more

Three stainless steel blades create Spaghetti Cut (1/8 inch), Fettuccine Cut (1/4 inch), Cut or Ribbon Noodles

Removable blade Box blades keeps clean, safe and organized when not in use and stores Onboard

Sharp Food Teeth Bracket Holds Food Safely While Spiralizing

Fruits and Vegetables Rotating handle turns to Spiralize advances. Side handle fruits and vegetables through blades and folds flat for compact storage

Stronghold suction cup for anti-slip stability on countertops
6 in 1: multi-purpose use: screw cap // bottle paper / tin paper / canned / canned / beer open etc.

JOB SAVINGS - Perfect for seniors, people with arthritis, or anyone who can't open bottles or others.

USE ESAILY: Ergonomic curve design, easy to use.

HIGH QUALITY: ABS + TPR + stainless steel with exquisite workmanship, lightweight and portable.

NOTE: This operator will deliver randomly, so you can receive either a black-red opener or a black-gray opener. Please make sure you don't mind before you place the order.
What do you think? You like them? Do you find them useful? I always say that in simplicity there are hidden treasures